About Glenn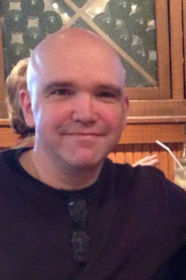 Glenn started playing the piano as soon as he was tall enough to reach the keys on the upright in his parent's basement. In 1971 he began his formal music studies playing the saxophone in the local school music program. In the summers of 77, 78, and 79, Glenn continued his studies at the
Interlochen Center for the Arts
in northern Michigan studying both classical and jazz.
Glenn attended
Eastern Michigan University
beginning in 1980 as a saxophone major where he also took on study of piano, violin, and guitar. Soon the guitar replaced the saxophone as Glenn's primary instrument and he started to play in some local bands and also began working in the first of his home studios where he discovered his love for the spacey sounds he could achieve through the use of audio effects and synthesizers. From 1982 to 1984, Glenn performed with
Conditioned Response
as the group's lead guitarist and the main contributor of the group's original music.
In 1992, Glenn joined local band
Coup Detroit
doubling on rhythm guitar and keyboards. After personnel changes resulted in Glenn moving over to bass, he picked up his first Chapman Stick in 1999 and soon found himself performing on the Stick both with Coup Detroit and as a solo artist. In 2000, Glenn began co-hosting the annual Michigan Stick Seminar in Ann Arbor, Michigan. In 2009, the seminar moved north to the Interlochen Center for the Arts and became part of their College of Creative Arts curriculum with Glenn acting as artistic director.
As a Stick player, Glenn has been fortunate enough to study with some of the bext Stick players in the world including Greg Howard, Bob Culbertson, Jim Lampi, Steve Adelson, Tom Griesgraber, and the instrument's creator Emmett Chapman. As a guitarist, he has also had the good fortune to attend workshops with some world class fingerstyle guitar players including Lawrence Juber, Billy McLaughlin, Muriel Anderson, Thom Bresh, Don Ross, Alex de Grassi, and Andrew York.